If we had a nickel for every time someone asks "what's a brewery farm?" I'd have a kick-ass bottling line to replace the one I had to leave on the table when we had to challenge the system to get the necessary approvals to launch this project, in the country. Having a brewery in the country, just made sense to a farm boy who grew up in the rural lands of Southwestern Ontario. With all of the interest and support of the community, we decided it was time to tell you the Brewery Farm story. It all started off as a seed of an idea to make a product with a rich agricultural connection and since that time, over the past five years, that seed has grown into the Brewery Farm.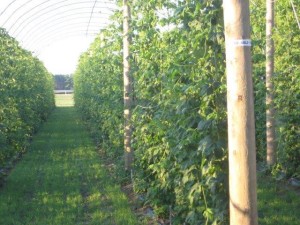 Having the good fortune of living in farm country, we are blessed with rich sandy loam that many garden crops thrive in. From this soil, the idea of a Norfolk County microbrewery was planted. Over the past few decades we have tilled Norfolk County's exceptional soil to grow peanuts; and it is this same type of earth that hops thrive in. Five years ago our family planted our first hop rhizomes, initially six varieties, on a couple of acres just off Swimming Pool Road.
The "farm" in "Brewery Farm" is inspired from the self-sustaining old family farms that stretched across much of Southern Ontario over a century ago. We didn't simply want a brewery, but rather a brewery that could be self-reliant on the land that it is built on. Traditional farming also means survival by continually diversifying and improving the crops grown in the fields. So, we now grow Dakota Pearl potatoes and eight different varieties of hops – and we can't wait until the Spring when they start shooting upwards from the thawing grounds. The potatoes are cooked into kettle chips on the farm as well, just recently making a crisp and crunchy debut, in six varieties of extremeness.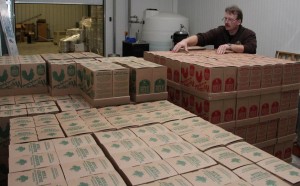 Like any modern family farm we believe that we have to be connected to the community in order to support the community. We want the Brewery Farm to be a place where the folks of Norfolk County and their friends from near and far can gather, sample a freshly brewed premium beer, and appreciate the agricultural roots and innovation of this region. On most weekends, I'm happy to share a sample and talk beer, just ask me a question, it's a great story.
John Picard